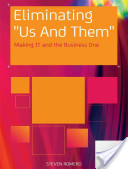 Eliminating "Us And Them": Making IT and the Business One is for anyone who is interested in knowing the divide between IT and business. It is a must read for IT professionals and business persons in your company.
This book has 25 chapters, they are: 1.  Us and Them 2. When IT is "Us" and "Them" 3. Falling in Love with IT Governance 4. The State of IT Goverance  5. IT Governance Decisions 6. IT Governance Mechanisms 7. IT Governance Processes 8. Beginning the IT Governance Journey 9. Process (And Why Everybody Hates It) 10. How I Fell in Love with Process 11. Barriers to Process 12. Understanding Process 13. Process Design 14. Process Implementation 15. Process Management 16. Process Roles 17. Process Governance 18. Employee Empowerment 19. The Links Between Behavioral Management, IT Governance and Process 20. The Critical Nature of Enterprise Values 21. Process-centric Values and Behaviors 22. The Challenges of Behavioral Management 23. Walking the Talk 24. Why Hasn't IT Fixed It? 25. Governance, Process and Organizational Behavior
As you read, you will realize that the author has discussed the problem very efficiently and described the need for sound IT governance, optimal processes, and the right culture and human behavior to eliminate "us and them" and make IT and the business as "one". You can take advantage of Google Books to preview the content.
Overall, in 265 pages, from cover to cover, Author has done a fabulous job and really engaged the readers in conversation. I hope you'll enjoy this book as much as I have had and it is a great addition to my library.